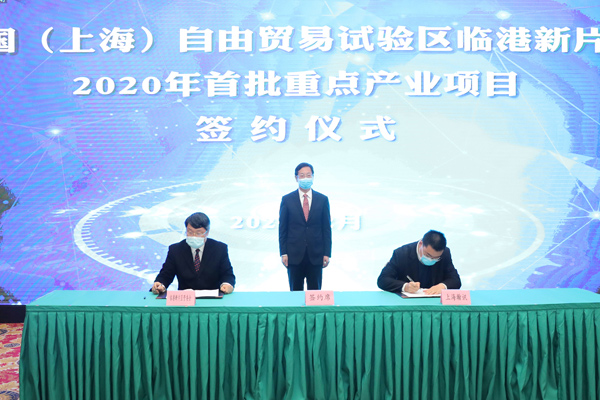 SHANGHAI, Feb. 14 (Xinhua) -- The Lingang Special Area of China (Shanghai) Pilot Free Trade Zone Thursday signed agreements on 12 projects worth more than 20 billion yuan with relevant companies such as Shanghai Ncatest Technologies and CertusNet Inc.

These projects involve a number of cutting-edge industries, including integrated circuits, artificial intelligence, intelligent manufacturing, new-generation information technology, new materials, new energy and high-end intelligent equipment.
Due to the ongoing novel coronavirus epidemic in Shanghai, the agreements had been negotiated through online meetings and signed by company representatives arrived at the scene one after another.
Zhu Zhisong, deputy secretary-general of the Shanghai municipal government and executive deputy director of the Lingang Special Area administrative committee, said Lingang will on one hand, do its best in epidemic control, and on the other hand, support companies to resume production and ensure project investment and development.
The projects include battery management system for new-energy vehicles, third-generation semiconductor materials, chips and designs for 5G, as well as intelligent high-end equipment.
The letters of intent on these projects were signed at the end of last year. As originally planned, the contracts are inked after the Spring Festival, and the comprehensive construction will be completed within the year.
(Edited by Yang Qi, [email protected])